LCD, Plasma, LED and HD TV Repairs Service
If your television isn't performing as it should our TV repairs service is here to help.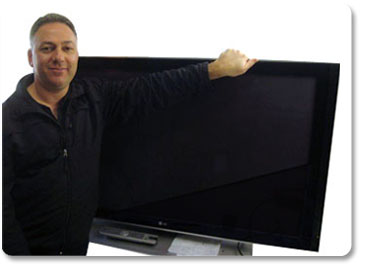 Eran Electronics research the brand and model of TV, identify if the fault is a common one and if it can be repaired easily. We'll test and take a closer look at the TV making sure our assessment is correct. Once we're certain how to best repair the TV we'll contact our suppliers for the cost of delivering the necessary parts dependent upon availablitiy. We'll then factor in labour costs for the job. We will then notify the customer of the total cost - and obtain their consent - prior to undertaking any repair works. If a TV or item is simply not worth the cost of repairing we will tell you so.
Home Theatre Entertainment System Advice and Installations
A new home theatre entertainment system can provide you and your family with many hours of enjoyment. It can also be an integral asset to your business for presentations, pitches and staff training. The individual components can seem daunting right off the shelf to the average person with little to no electronics experience. If you've managed to get it all out of the box, congratulations! Now what? Relax, breathe, now phone Ossie on (03) 9449 4145. Osman can install the system to achieve peak performance. See, that wasn't so difficult. We will even let you claim the credit for setting it all up. We won't tell anyone.
An onsite technician can visit your location, residence or business to:
Assess the space and advise you on what's suitable for your home entertainment requirements
Test and identify faulty audio visual and electronics equipment
Set up and tune your LCD TV, Plasma TV or HD TV to receive digital channels (or install and tune a set top box for CRTs)
Install and test the BluRay player and/or DVD player are functioning correctly
Configure the amplifier, receiver and surround sound system speakers for optimal high fidelity and acoustic reproduction
Ensure your FOXTEL connection is set up and tuned to work properly with the home entertainment system
Program your Universal Remote Control so that you can access all of the functions easily using one unit
Give you a tutorial on how to access and use the features of your new home entertainment system.
Business Services

It's important your TVs and display hardware are running smoothly for those high powered client pitches. If you want the job, give us the job of maintaining your televisions.
ASAP TV Repairs

We aim to have your TV returned to working condition ASAP. Please be aware we don't stock every component and do depend on our suppliers and freight companies for parts.